The Empire has fallen...
The Emperor is dead...
Dominion shattered...

Not all hope is lost...
From the ashes of old... they shall come...

Warriors...
Prophets...
Soothsayers...

The Dogs of War shall scour the world...
The Wolfpack will hunt in the shadows...
The Horsemen shall ride once more...

From the ashes of old... they shall come...

And the galaxy shall burn anew...
~WELCOME~
Welcome to the Gamma Squadron Webpage of Awesomeness.
This site is dedicated to the brave souls of the mighty Gamma Squadron.

Feel free to look around.

Audio tours - $6
Signed COL Master poster - $110
COL Daniel Bonini's underwear - Priceless
~NEWS~
Thursday, 28/04/2011
Further updates, especially to main page.

Tuesday, 26/04/2011
And on the Frabjous Day the world shone upon existence.

Monday, 25/04/2011
Links page added, History page updated, Profile template updated, Copyrights updated & Changes to profiles.

Friday, 22nd April 2011
We go online baby!

Monday, 11th April 2011
Website created! For the glory of Gamma Squadron
~ORDERS~
*Demotivational Me!*

Due: 14th May 2011.
Create a Star Wars/EH/TC or Gamma Squadron Demotivational Poster.

Example



Winning Submission will be judged by Master based on awesomeness. You may submit as many entries as you like.
*Master's Mighty Mission of the Week! - Redux*

THIS WEEKS MISSION:
TIE-FREE # 209 - Historic Mission #1367
http://www.emperorshammer.org/battle.php?id=879
Due: Monday 0:00 GMT.


LAST WEEKS MISSION:
IWATS - Crazy Tactics that Work
http://www.emperorshammer.org/course.php?id=181
Due: Wednesday 0:00 GMT.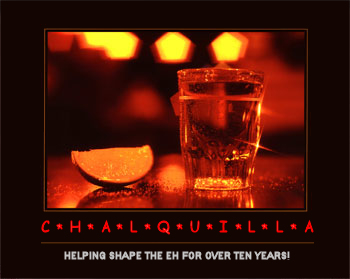 ~QUOTE OF THE MOMENT~
* `Master waves before ordering a drink
* @Dempsey smacks master upside down
<@Dempsey> no drinks for you!
<@Dempsey> you can't fly when drunk
<`Master> ...
<`Master> do u not know who i am :P
~PICTURE OF THE MOMENT~
"I've had this picture for a very long time. Always thought it was awesome... besides she's hot :P" - Master
~MASTER'S GAME OF THE MOMENT~
"You must play this game now! Number #2 on my greatest games of all time" - Master
~SITE FEEDBACK OF THE MOMENT~
Very old school, but still nice. Kinda like all of us, so it fits. :P - LC Tempest
Respectfully Created;
CMDR-TACA/COL Master/Gamma 1/Wing I/ISDII Hammer
"Days never finished... Master's got me working... Someday Master set me free..."